Ideas for vacations and visits to remember – our 15 epic places to visit in Turkey
Visiting Turkey is best during the spring or autumn months. Turkey is unique in that the region spans Europe and Asia – a gem of the middle east.
This is a popular tourist destination for travellers from all over the world. Spring – March to May is the perfect season. In my experience Spring is the most beautiful time to experience the best of Turkey.
Many popular sights and attractions have outdoor locations like the spice market, visiting mosques and visiting ruins from lost towns. May can be experienced with a tour guide.
From June until August is peak season. Summer in Turkey coincides with summer travel seasons for international tourists – and this is the hottest time to visit the country. It can be uncomfortable for many. The heat can be intense during the most intense sun hours. We talk about best time to travel to Turkey at the end of this post.
As a quick reference guide to things to do, we highly recommend GetYourGuide – Click Here
We're on a journey to transform ordinary trips into extraordinary ones so we really do want to help your discover Epic Places to Visit in Turkey. With GetYourGuide on your side (and in your pocket), creating memorable moments has never been easier.
Summary of the most popular destinations in Turkey
Always popular with holiday seekers, the Aegean shoreline creates memorable summer holidays – a true turkish delight!
An Aegean tour should take you island-hopping or wandering along the palm-dotted promenades of Izmir! Relax in Pamukkale Thermal Pool and take a cruise along Turkey.
At the heart of the Asian world lies Anatolia where history, religion and cultural traditions are harmoniously integrated. Explore and tour the fairy chimneys in Göreme, take in the ballooned sights of Cappadocia and then shop till you drop.
The Turkish Mediterranean offers a stunning blend of culture, and landscapes — from sea to mountains and the numerous ancient cities. It is home to some of Turkey's most acclaimed historical and archaeological sites, as well as some of its most beautiful beaches, an amazing balloon ride, the stunning turquoise coast and the captivating seascapes to offer you a wonderful experience.
Discover Colourful Istanbul
Istanbul is an amazing city and the capital of Turkey. It has something to offer everyone, from cultural experiences, shopping, entertainment, historical sites and much more. Visit the Grand Bazaar for a day of shopping or take in some history at Topkapi Palace. Explore the stunningly beautiful Hagia Sophia or bask in the beauty of blue mosque.
Istanbul is also known as the city of lights, and it's an ideal place to enjoy a romantic dinner or go clubbing. Enjoy a Turkish bath at one of the many hammams in Istanbul or take an evening cruise along the Bosporus. There are lots of great restaurants to choose from and plenty of shopping areas full of unique items. GetYourGuide here.
Visit the Grand Bazaar of Istanbul
The Grand Bazaar of Istanbul is one of the oldest and largest covered markets in the world. Located in the heart of Istanbul, this sprawling market has something for everyone. Explore a vast selection of exotic jewellery, carpets, spices, and more as you wander through its winding alleyways. The atmosphere here is lively and it's a great place to admire the cultural melting pot of Istanbul.
Take some time to wander through its more hidden alleyways and discover some unique treasures. From antiques, textiles, artwork, and homewares, this market has something for everyone. Don't forget to haggle with vendors for the best prices! And if you're feeling peckish, there are plenty of restaurants and cafes to choose from.
The Grand Bazaar of Istanbul is an iconic part of the city that shouldn't be missed. Explore its winding alleyways for a unique shopping experience and admire the vibrant atmosphere as you go. It's a great place to pick up some souvenirs or just take in the sights and sounds. Whether you're looking for a bargain or just want to admire the bustling atmosphere, the Bazaar is one of Turkey's must-see attractions.
Grab your guided tour tickets of the Grand Bazaar here for a snap!
The Blue Mosque
The Blue Mosque, or Sultan Ahmed Mosque, is a stunning example of Ottoman architecture located in the historical city center of Istanbul. Constructed in 1616, it is the only mosque in the world with six minarets and an interior adorned with over 20,000 blue tiles. Inside, travellers can admire the intricate Arabic calligraphy that covers the ceiling and walls. Visitors should note that there are certain restrictions on what to wear and when to visit. The mosque is open for tourists from 9am to 5pm during the week, and until 4:30pm on weekends.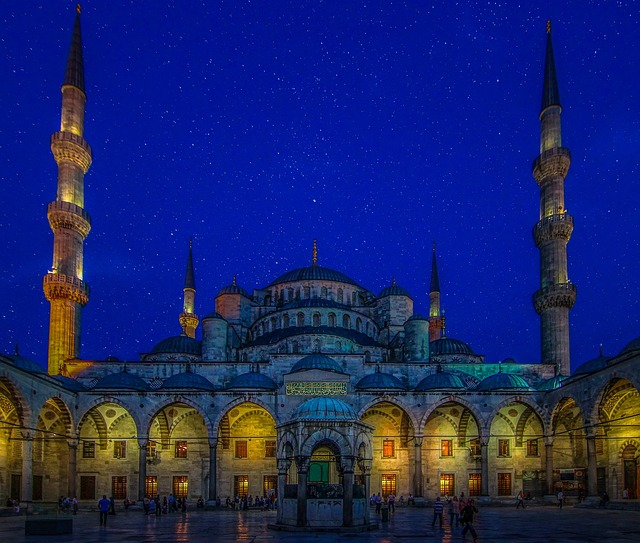 Traditional Bosphorus Cruise
No trip to Istanbul would be complete without a traditional Bosphorus Cruise. This boat cruise takes you along the Bosporus, connecting Europe and Asia. You'll get to see some of Istanbul's beautiful sights – including mosques, castles, bridges and palaces – from the comfort of your boat. The perfect way to end a memorable day in this area.
Thought about doing a Bosphorus dinner cruise? We've got your covered for that too. Click here (very popular so don't wait to book!)
Explore the Ruins of Ephesus
Ephesus is one of the most famous archaeological sites in the world. It's located near Selçuk, which is an hour south of Izmir and accessible by road trip or direct flight. Explore the ruins to learn about ancient Greek culture and see some of the most iconic monuments like the Temple of Artemis and the Library of Celsus.
Ephesus is also home to some of the most stunning beaches in Turkey that are perfect for a day out. The nearby village of Selçuk is one of the most picturesque towns, and it's full of colour and culture. There are plenty of traditional Turkish restaurants to try as well as local markets to explore. Arrange a guided tour of Ephesus and Temple of Artemis here.
Take a Cruise in Bodrum
Bodrum is the perfect destination for anyone looking for a relaxed and luxurious holiday. This coastal town has everything from 5-star resorts to quaint cafes and picturesque harbour views. It's also home to some of the best beaches in Turkey with crystal clear waters and clean white sand.
Take a cruise around the Aegean coast to explore the nearby towns and villages. This is the ideal way to get away from it all and admire the stunning scenery. Alternatively, head out of town for some adventure activities like windsurfing, kitesurfing, or scuba diving.
We can help you find the best day trip cruise from Bodrum here.
Off to Troy, Pergamon and Izmir
Explore the ruins of Troy, home to the legendary Trojan War. It is one of the most important archaeological sites in Anatolia and a must-visit on anyone's list. Take a tour around the city and enjoy breathtaking views from atop Bergama Castle or explore the ancient ruins of Pergamon.
Izmir is also another great place to visit. This ancient city is home to some of the best shopping and entertainment in Turkey as well as plenty of traditional Turkish restaurants.
Enjoy a stroll along the waterfront promenade or take a day trip out to explore Mount Ida, one of the holiest places in Greek mythology.
We can help you find 1 and 2 day trips to Troy and Gallipoli here.
Onwards to Izmir
Izmir is also a great place to experience some of Turkey's vibrant culture. Visit the city's many bazaars and markets, or take in the stunning architecture of Konak Square.
For an even more memorable experience, head to the Agora Open Air Museum – where you can explore remains of the ancient Greek and Roman civilizations. After exploring the ancient ruins, spend some time soaking up the sun at one of Izmir's many beaches.
Or if you're feeling adventurous, take a boat out to one of the nearby Greek islands for an unforgettable day trip! No matter how you choose to spend your time in Izmir, there are plenty of sights and activities that will make it a memorable vacation.
There are several tours which can be organised from Izmir – take a quick look here.
Venture to Hierapolis and Antalya
Hierapolis is one of the most important ancient cities in Turkey and is home to some of the best-preserved ruins in the country. It's known for its religious significance and many churches, monasteries, and temples are located here.
Day tours can be organised here.
Antalya is another great destination for a relaxing holiday. Located on the Mediterranean coast, it has some of the most beautiful beaches in Turkey and is home to stunning historical sites like the ancient city of Aspendos. Shop at the local markets or take a boat trip out to explore the nearby islands.
Enjoy Ancient Perge
Perge is an ancient Roman city located in Antalya province. This fascinating site has many well-preserved ruins, including a stadium, theater, agora, and baths. It's also home to some of the best beaches in Turkey as it's located right on the Mediterranean coast.
Take a trip to the nearby city of Kalkan for stunning views or explore the ancient ruins of Side, a once-thriving port city.
Antalya Old Town And Waterfall Yacht Cruise
The old town of Antalya is full of cobblestone streets, colourful old houses and lots of delicious restaurants. Take a boat cruise along the harbour to admire the stunning seascapes or explore the nearby waterfalls. Alternatively, take a yacht cruise to enjoy some wonderful views from the sea.
A boat trip from Antalya is an unforgettable experience. Cruise along the dramatic coastline of the Mediterranean and admire the stunning views. You'll have the chance to spot dolphins, turtles, and other marine life as you journey through beautiful bays and coves. When you reach your destination, disembark to explore a waterfall that cascades down over rocks into a tranquil pool. Take a dip in the refreshing waters or just sit back and take in the stunning scenery as you relax on board. This is one of the best ways to explore Antalya and its natural beauty from the comfort of your own boat.
Explore Underground Cities
Cappadocia is one of the most unique places in Turkey and it's known for its stunning landscape, underground cities, and fairy chimneys.
Explore the mysterious underground cities of Cappadocia. Some of these cities are up to 8 levels deep and were once used as a refuge from enemies and natural disasters. As you explore, you'll find ancient tombs, churches, and even passages that date back thousands of years. The most famous underground city is Derinkuyu which can be accessed from the modern town of Nevşehir. Take a guided tour of the tunnels and explore all its hidden secrets.
Ride On a Hot Air Balloon
Cappadocia is also home to some breathtaking hot air balloon rides. Float through the valleys and admire the stunning landscape from up above. This fascinating tour is one of the best ways to explore Cappadocia and experience its beauty first-hand.
Each morning, hot air balloons take off from different locations across Cappadocia and soar over the picturesque valleys. You'll have the chance to experience stunning views of fairy chimneys, rocky terrains, and unique rock formations as you drift your hot air balloon ride through the sky. The experienced pilots will also give commentary on some of the sites that you can see from up above, so you'll learn a lot about the history and culture of this region.
At the end of your journey, you'll be served with a champagne breakfast as you watch the sunrise over Cappadocia's stunning terrain. It is an unforgettable experience that will stay with you for years to come. Book your balloon ride and tour here.
Don't miss Cappadocia's hot air balloons – this is an incredible experience. Find all the details to book your trip via the links above.
Endless Adventure in Kaçkar National Park
Kaçkar National Park is one of Turkey's most beautiful parks. Located in the Eastern Black Sea region, this area is home to lush forests and snowy peaks. Hike the trails to admire the stunning views or take a boat trip on Lake Kaçkar for an unforgettable experience.
Alternatively, explore some of the many caves and gorges in the area or relax in one of the thermal springs. This is one of Turkey's most scenic locations and it's ideal for adventure activities like paragliding, mountain biking, and skiing.
How about a rafting trip? Book one here.
Relax in Pamukkale
Last but not least, Pamukkale is the perfect place to relax and unwind. This UNESCO World Heritage Site is home to stunning natural hot springs which are renowned for their healing properties. Take a dip in the crystal clear waters of Cleopatra's Pool or explore the nearby ruins. The thermal pools are also surrounded by ancient Roman structures like theater, baths, and temples. There are lots of choices for trips and tours here.
Visit Cleopatra's Pool for a relaxing soak or explore the nearby ruins and ancient cities.
For an authentic Turkish experience, take a trip to the nearby town of Denizli. It is home to some of the most beautiful traditional villages and is known as the carpet capital of Turkey. You'll find lots of locally handmade carpets for sale in the markets, so it's an ideal spot for souvenir shopping.
Book your unforgettable experience at Pamukkale here.
Onwards to Ankara
Ankara is the capital of Turkey and it has a lot to offer. From its modern architecture, interesting museums, buzzing nightlife, and lots of shopping opportunities, there's something for everyone here. It's also home to some important historical sites like Ataturk Mausoleum which is dedicated to the founder of modern Turkey.
Ankara is also home to some amazing restaurants and bars. Take a stroll through the city streets and sample some of the local cuisines or spend an evening enjoying one of the many rooftop bars. With its vibrant atmosphere, there's something for everyone here.
For those looking for a more cultural experience, Ankara offers plenty of museums and galleries to explore. Visit the Roman Theatre of Ankara for an insight into the city's history or explore some of the many religious sites like the Haci Bayram Mosque or Saint George Church. There are also countless markets here, selling everything from antiques to handmade souvenirs.
No trip to Turkey is complete without a visit to its capital city of Ankara. With its vibrant atmosphere, interesting attractions and historical sites, there's something for everyone here. Explore the city streets and sample some of the delicious local cuisine or admire the stunning architecture from up above with a cocktail in hand.
One of the best private tours of Ankara we discovered can be found here.
Ankara's streets are lined with delicious street food perfect for those looking for a hearty bite to eat. Enjoy the classic Turkish doner kebab, known as the döner kebab, with its succulent marinated lamb served in a wrap or over a bed of fragrant rice. A stroll through the streets of Ankara will reveal an array of traditional dishes such as kofte (meatballs), borek (savoury pastry) and much more. As well as these delicious dishes, there are also plenty of sweet treats like tulumba tatlisi (a fried doughy pastry drizzled with syrup) and helva (a type of semolina cake). Exploring Ankara's street food is sure to tantalize your taste buds!
Best Time To Visit
The best time to visit Turkey depends on what type of traveller you are and the kind of activities that you want to do this great trip.
If you're looking for a beach holiday on the Turkish coast, then summer is the best time to visit as temperatures in coastal areas reach up to 30°C on the eastern Mediterranean. It's also peak season so expect prices to be higher. However, if you're looking to explore the cities and cultural sites, then Spring or Autumn would be a better option. Temperatures in the cities are more bearable during these months and the prices are much lower.
For those wanting to hike and explore the outdoor landscapes, Spring is an ideal time as it's before the scorching summer heat sets in. You'll also be able to take advantage of the blooming wildflowers and lush green landscapes that come with the season.
No matter what time of year you go, Turkey is a beautiful country filled with unique sites, vibrant cities, and unforgettable experiences. Whether you want to relax on the beach or explore some of its ancient ruins, you'll be sure to find something that suits your style.
When planning a trip to Turkey, take into account the kind of activities that you want to do and the best time to visit will become clear.
Current Deals on Turkey Trips
Find your best options for hotel accommodations and other places to stay, here.
Always confirm your travel insurance
Travelling from the UK: CLICK HERE
Travelling with medical conditions: click here
Travelling from Europe: CLICK HERE
Travelling from the USA: CLICK HERE
Read more

: 15 Epic Places to Visit in Turkey in 2023
The Wrap up:
When exploring Turkey, don't miss out on the fascinating city of Istanbul. With its rich history and vibrant culture, Istanbul offers an array of unique places to visit. To ensure you don't miss any must-see locations, be sure to pick up a tourist map of Istanbul. This comprehensive map will guide you through the city's iconic landmarks, such as the Hagia Sophia, the Blue Mosque, and the Topkapi Palace.
Once you've explored Istanbul, venture further into the country to discover the magnificent region of Cappadocia. Known for its surreal landscapes and ancient cave dwellings, Cappadocia is a truly epic destination. Ensure you have a Cappadocia Turkey map on hand to navigate through its captivating valleys and fairy-tale-like chimneys. This tourist map of Cappadocia will lead you to enchanting places like the Goreme Open-Air Museum and the underground city of Derinkuyu.
If you're seeking sun, sand, and turquoise waters, look no further than Turkey's beautiful beaches. To plan your beach holidays, grab a comprehensive tourist map of Turkey. This map will highlight countless coastal destinations, allowing you to explore the best Turkish beaches. With the help of this map, you can easily find hidden gems like Patara Beach, Butterfly Valley, or the stunning Oludeniz Beach.
Whether you're an urban explorer in Istanbul or an adventurer in Cappadocia, having access to accurate tourist maps is crucial for a memorable trip. So, make sure you have your Istanbul map, Cappadocia map, and Turkey beaches map in English, enabling you to embark on an unforgettable journey through Turkey's diverse and captivating landscapes.